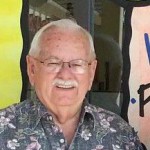 Like a precious piece of diamond, Bill Senna displays the many facets of knowledge and experience that have molded him through the years into the gem of a public servant, a friend and a partner that he now is to hundreds of his colleagues and clients.
Born on December 27, 1936, William Anthony Senna learned at a young age the importance of being in harmony with one's environment and community and most especially, the value of being there for others. Early on, in El Portal in Yosemite, he was saved from an untimely death by a young Indian boy who became his friend for life.
Childhood was memorable – long bus rides to and from school in Mariposa, treks with friends and fly-fishing with his dad (who worked for the National Park) along Merced River, periodic forays into abandoned Indian settlements, watching the Fire Fall from Glacier Point, and the occasional thrill of running from irate mama bears and rattle snakes. On top of all these were the death-defying "hide-and-seek" games he played at night with other boys – not on foot, but in their cars! Bill says he used to know every nook and cranny of his birthplace and no one could beat him then.
As a gangling teenager, Bill weaned himself from the cozy comfort of home to join the US Air Force. After basic training at Lackland Air Force Base in Texas, he served as an electronic technician with the 93rd Bomb Wing which was based at Castle AFB in Merced, California, where they pioneered the B-52. All this time, he was already responsible for a family of four; he had married Sherwin Lee Reynolds at the age of nineteen and had a daughter, Deborah and a son, Kenneth.
Following a series of promotions, Bill landed a trainer's post, where he instructed technicians on the maintenance procedures for the C-130 aircraft. This skill earned him a special assignment in Turkey, where as a sergeant, he taught Turkish Air Force personnel how to use and maintain the C-130. "It was a good assignment," he recalls, "they treated us well, but all that mutton. There was so much I couldn't get used to it. I still haven't, after all these years."
After a tour of duty of 20 years which brought him to several places, Hawaii being his favorite, he decided it was time for a career change, he retired from the service, moved to the Central Coast and joined the US Post Office as a clerk. From there, he diligently moved up the ranks and eventually, was appointed Postmaster for Oceano. It was here where his horizon broadened – from that of a regular family man and government employee to that of a dedicated public servant. His initiation into community service was when he ran for and won a position on the Oceano Community Services District Board of Directors. The OCSD is responsible for services in unincorporated areas like fire protection, water, lighting, parks and recreation and sewer. He served three terms and became board president.
Finding his niche at the OCSD, Bill decided to leave the Post Office and was eventually named OCSD General Manager. Of this he says, "Being General Manager was a great job; I learned the importance of fiscal responsibility. The district has a "pay-as-you-go" policy. It kept our indebtedness to a minimum and with cash reserves we were able to find some good buys on fire engines and other essential equipment."
The elected position brought other related responsibilities. He is a past president of the Oceano Improvement Association (OIA), a group that functioned much like a chamber of commerce. He is proudest of the fact that on his watch, OIA was a major force in the development of the Central Coast Senior Center. Bill is also especially proud of his stint at the Oceano Depot Association, together with the late Harold Guiton. Other past civic involvements include The Five Cities Men's Club, the Rotary, the Masonic and Elks Lodges and the Shriners. To date he is active with the Five-Cities Optimist Club where he handles international projects which sends donated books and clothes to impoverished children in the Philippines.
Bill's progression from one career to another has helped widen his perspective and his area of concern, and has deepened his commitment. Through the years, with all the trials he had undergone and the important decisions he had to make, he transitioned from a shy boy to a confident, well-rounded personality who could speak effectively to a single toddler or to a crowd of hundreds – an honest man who thought, spoke and lived service and had others' welfare first on his list.
In 1994, he learned that the Lucia Mar Unified School District was planning to enact an ordinance that would hit citizens with a special assessment without allowing for a public vote. He opposed that idea of "taxation without representation" and formed an opposition group, whose numbers grew rapidly, which prompted the Lucia Mar Board to reverse its decision to avert public anger. This incident inspired Bill to run for one of the trustee position on the board of education. He won and served for better than seven years and retired as president of the board.
Bill is no stranger to misery and loss. Heaviest on his heart was the death of his son, Ken, at 32. Looking back he says it triggered more than a midlife crisis, but it taught him that life goes on and that we can prop one another up in crisis. In tragedy, the Master Jeweler created yet another facet in this rock of a personality, in the form of a third career, another mission – he bounced back one year from the tragedy, determined to be that crutch to people in their times of grief. He opened an insurance office in Arroyo Grande, focusing on the insurance needs of senior citizens, as he himself is a certified diamond jubilarian. He represents fifteen or more companies and carries health plans, Medicare Supplements, annuities, auto and homeowner policies. It has been gratifying and the best job ever for this "people person" who has mastered the noble deeds of caring and giving. As he puts it, "When someone buys a policy from me, he buys into my heart, too, and is assured of the best service I can render. Our customers are the most important people in this office, we work to serve their needs at all times." Bill has since lost his daughter (Debbie in 2009, from whom he has a grandson, Nick) and wife (Sherwin in 2010). This has made him more passionate in assisting families cope with terminal illness and death through his involvement with some local mortuaries. "Thoughtful, thorough, and helpful" is how friends describe him in this field. Having fully recovered from the said loss, he is now happily married to Gigi nee Ruiz, with whom he does most of his activities.
Truly, like a coveted diamond, Bill Senna, shines out. He is cut to deal with a wide spectrum of clientele due to his long experience with different types of individuals, establishments, and situations, as well as his wide range of products and services. He's got clarity of purpose: to help senior citizens like him and their families live worry-free and secure in the fact that they can come to him for assistance anytime. His is the color of sincerity and the purest of intentions, oftentimes sacrificing personal gain to answer his clients' needs; he doesn't hesitate to go the extra mile, or miles for that matter. From any angle, he reflects honest and dedicated service where the client comes first and where they get to grow with him. He shines with the love of life and the love for humanity. Forever, this legacy shall live.